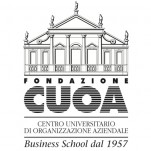 INTERNATIONAL MBA FULL TIME
Fondazione CUOA
Città Altavilla Vicentina (Vicenza)
Costo 20000 €
Durata 10 Mesi
Stage NO
The International MBA is a new Full-Time Master Program, completely held in English language, designed jointly with leading international companies and addressed to a selected group of young talents from Italy and abroad.
Obiettivi
At the end of the training path participants will have:
developed a strong basis of experience, knowledge and specific managerial competences;
gained the ability to understand the evolutionary path of the economic context and gained the ability to catch the opportunities of the possible future markets;
gained the ability to interact effectively with colleagues with different values and cultural models;
built a network of long-lasting relationships with people and organizations working in many different countries.
Destinatari
The International MBA is addressed to highly motivated managers and professionals with at least two years of work experience, with proven interest in operating in international and multicultural environments. They will be particularly eager to attain executive positions in medium-sized highly specialized multinational companies.
Admission requirements:
A completed degree program
At least two years of work experience
An English certificate, preferably TOEFL or IELTS (except for mother-tongue English speakers and for those who took their degree in English or have significant professional experience in an English-speaking country)
Graduate Management Admission Test (GMAT) or Graduate Record Examination (GRE)
An application form and a detailed CV
Two letters of reference about candidate's professional and/or academic background.
Contenuti
Core Courses
Accounting
Management accounting
Finance and risk management
Governance
Strategic Management
Supply chain
Marketing
Organization
H&R management
International management
Innovation management
Information technology
Business ethics.
Leadership program
The Leadership program aims at strengthening the natural capabilities of leadership in each student through:
Leadership tools
Outdoor program
CEO meetings.
Business simulation
Business game & Planning
"In company" workshops: action project consulting for a leading company, a non profit institution or other public or private organizations.
Engaging with the world
Globalisation and culture
The new geopolitical balance
The new markets
Marketing in BRICS.