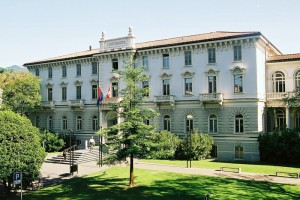 MASTER IN COMMUNICATION, MANAGEMENT & HEALTH
Università della Svizzera Italiana
Città Lugano
Costo 12971 €
Durata 24 Mesi
Stage NO
The MSc in Communication, Management and Health is offered by Institute of Communication and Health of USI's Faculty of Communication situated in Lugano – Switzerland. This full-time study programme comprises 120 ECTS spread over 4 semesters (usual duration 2 years) and is entirely offered in English.
MCMH offers a unique opportunity to have a focused and in depth programme in the health sector while at the same time gain a broad understanding of how business and marketing functions operate. This is combined with the possibility of participating in a multicultural and international dual degree programme, studying in two different cultures: on the east cost of the USA at Virginia Tech and in Lugano at the Università della Svizzera italiana. At the end of the combined programme, successful students will receive both a Master of Science in Business Administration with concentration in Marketing from Virginia Tech and a Master of Science in Communication, Management & Health from USI.
Obiettivi
The world is becoming increasingly complex, with simultaneous opposing demands for more specialisation, a broader understanding of issues, as well as an international outlook. While this is true for most fields, it is particularly the case in the domain of health, where science and its applications continue to gain in complexity and sophistication.
The University of Lugano (USI), Switzerland, and Virginia Tech (VT), USA, offer a Master in Communication Management and Health (CMH), a degree that will prepare you to grasp the complexity of the health sector and to pursue fulfilling and diversified careers in health.
The purpose of the MCMH is to enable students to:
comprehend the health sector;
learn the required analytical/methodological skills to better understand and interact with the health sector and its changes;
acquire practical skills in communication and management appropriate for the health context.
With an international and cross-disciplinary approach to both business and communication, the master in Communication, Management and Health provides you with a solid theoretical background in multiple academic disciplines such as:
Health Communication
Quantitative and qualitative Research Methodologies in Health Communication,
Public Health challenges and Health policy
Marketing and Management in Health Settings
Social Marketing and Design of Health Campaigns
Destinatari
The formal requirement for admission to the Master's degree in Communication, Management & Health is a Bachelor's degree granted by a recognised university, in the fields of Communication Sciences, Economics or other relevant disciplines.
Candidates are expected to have acquired intermediate statistics skills. A tutorial in statistics is offered before the begin of the programme.
Applicants are encouraged to provide GRE/GMAT scores in support of their application
Candidates with a Bachelor's degree from a University of Applied sciences may be admitted with a study debt of 30-60 extra ECTS to be earned:
with Bachelor's courses at USI which can be attended during the Master studies (please note that bachelor's course at USI are taught in Italian)
with Bachelor's courses at another recognised University prior to start the Master studies. The university and list of courses to attend has to be agreed with the Director of the Master.
The Master in Communication, Management & Health is taught entirely in English. Applicants whose first degree was not taught in English, are required to at least have earned a B2 certificate according to the Common European Framework of Reference for Languages or an equivalent level of another proficiency certificate – e.g. TOEFL, IELTS.
As VT requires a higher English level, applicants who wish to be considered for admission to Virginia Tech need to submit either the TOEFL or IELTS English test. Depending on the type of TOEFL, students taking this English test must obtain at the least the following scores:
Internet-based test: at least 80, preferably with no section sub-score less than 20
Computer-based test: at least 213
Paper-based test: at least 550
IELTS scores of 6.5 or higher can be accepted in lieu of the TOEFL.
Test results may be handed in after the application deadline but students are required to take IELTS or TOEFL before September, 1st.
Whilst it is an important requisite to be fluent in English, candidates do not need to know or learn Italian in order to successfully participate in the programmes.
As Lugano is located in the Italian-speaking part of Switzerland, students might be interested in acquiring the basics in Italian, in order to be able to get around in everyday life.
The University of Lugano offers an Italian language study programme organized in various modules. All its non Italian-speaking students, researchers and professors are invited to participate free of charge.
Sbocchi occupazionali
MCMH graduates are prepared for career opportunities in marketing and communication for pharmaceutical, Bio-tech, and insurance companies, as well as government and other health organisations. Marketing and Management departments from other sectors will also value the distinctive profile of MCMH graduates.
More than half of our graduate students have found jobs in the private sector, including pharmaceutical companies; others are working for public institutions, non-profit organizations in health or in the academic area. Please read our testimonials.
Future employers highly appreciate the interdisciplinary of the MCMH programme as well as the international experience acquired through the dual degree programme.
Through the field projects with professionals in the health sector during their last semester, the students acquire a practical experience and are well equipped to start their professional life.
The primary job market for candidates earning this degree is the marketing and communication functions of pharmaceutical, bio-tech, and insurance companies, and government and other organisations in the health sector where the combination of analytical skills and understanding of the health sector will provide a competitive advantage. The skills and knowledge obtained from the degree can also be used in many other areas such as communication, management, marketing and other market related functions. The ultimate goal of our master's programme is to combine academic excellence and practical experience to best prepare our students for their professional life.
Contenuti
Sem. I (USI) Core topics in Health Communication & Management
Introduction to Statistics and SPSS (Tutorial)
Health Communication
Research methods in Health Communication
Social Marketing
Data Analysis
Corporate Strategy
Managerial and Financial Accounting
Sem. II (VT)
Marketing Research
Marketing Policy and Strategy
International Marketing Strategy
Marketing, Entrepreneurship, and the Public Purpose
Statistics for Research (II)
Sem. II (USI)
Corporate identity and image
Health Communication Law
Global Corporate Communication
Consumer Behavior
Corporate Social Responsibility
Sem. III (USI) Advanced Topics in Health Communication & Management
Interpersonal Communication in Health
Industry & Institutions Perspectives: Stakeholders in the Swiss Health System
Qualitative Research Methods in Health Communication
Efficacy of Health Communication via Media
Organisational Behaviour
Health Policy
Introduction to Public Health
Sem. IV (VT/USI) Thesis and Field Project
Note
Costo Tuition fees for the Master's degrees amount to CHF 4,000 per semester. Applicants whose official residence was in Switzerland (including Liechtenstein and Campione d'Italia) at the time of the final high school exam (Maturità) pay a reduced semester fee of CHF 2,000. Tuition fees are payable at the beginning of each term, by the deadline indicated on the invoice; fee payment is an essential condition for matriculating or renewing one's enrolment. Borse di studio e finanziamenti The Foundation for the Lugano Faculties of USI will award a total of 60 one-off study grants of the amount of 4'000 CHF each. The merit based grants are given to first year students admitted to a USI Master program starting in September. Other study grants are available. For more details, please, visit the following link: http://www.usi.ch/en/formazione-borse_studio.htm