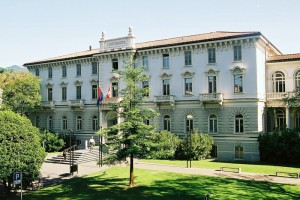 MASTER IN INTERNATIONAL TOURISM
Università della Svizzera Italiana
Città Lugano
Costo 12971 €
Durata 12 Mesi
Stage SI
The Master in International Tourism is offered jointly by the Faculties of Economics and of Communication Sciences of the Università della Svizzera italiana, USI, situated in Lugano – Switzerland. This full-time study programme comprises 120 ECTS spread over 4 semesters (usual duration 2 years) and is entirely offered in English. The places offered are limited.
Having developed very rapidly in recent decades, international tourism has become one of the world economy's major industries. Yet, managing international tourism demands a serious commitment: it is challenging in so far as one must take into account a variety of different economies, institutions, legal systems, languages, and cultures.
The Master in International Tourism aims to provide the student with knowledge, expertise, and innovative development models specially designed for the strategic management of tourism systems at different degrees of complexity and geographical scale, while focusing more particularly on the creation and development of new tourist resources and ventures.
Tourism is a relevant phenomenon of modern societies and an important economic reality worldwide. But the historical roots, the social mechanisms and the economic logic of tourism are not, as yet, fully understood.
This is due to the complexity of the phenomenon: the tourist can be a business traveller, a package tourist or an adventurer; and the so called "tourism industry" comprises anything from souvenir dealer in Hindustan to a five star hotel on the Còte and from a bar keeper on Bali to a tour operator in Chicago.
Therefore, studying tourism implies investigating the variety of motives and types of behaviour as well as the multitude of agents organizing and offering the services against the background of political, social and economic realities.
The Master in International Tourism seeks to respond to this challenge and offers a programme that goes beyond the limited focus of professional masters courses, proposing instead a transversal and interdisciplinary approach on a university level.
The goal is to achieve competence through academic discourse, disciplinary toolkits and a deeper understanding of the phenomenon.
In this way the Master in International Tourism is an alternative and a complement to existing educational offers with a focus on professional skills.
Obiettivi
Having developed very rapidly in recent decades, international tourism has become one of the world economy's major industries. The World Travel and Tourism Council projects that between now and 2013, the tourism and hospitality industry will generate 250 million jobs, consisting of approximately 10% of total world employment.
Yet, managing international tourism demands a serious commitment: it is challenging and one must take into account a variety of different economies, institutions, legal systems, languages and cultures. To strike a fair balance between the various elements at play – the tourist industry, the tourist, the local community, the environment – entrepreneurs and operators need to have an excellent grasp of several (even fairly disparate) disciplines, highly professional skills, a strategic and essential view of phenomena, with a strong sense of responsibility.
The Master aims to be part of a new form of training that is strongly oriented towards a multidisciplinary approach in contents and methods and occupies a unique position in a new educational context that is wide-ranging and with a strong interdisciplinary orientation:
Economics and management (of tourism, of tourist business, of culture, of territory and environment);
Communication (in tourism, tourism marketing, information technologies, and human sciences);
Politics, Institutions and International relations.
Destinatari
The formal requirement for admission is a Bachelor's degree from a recognized academic institution in Economics, Communication Sciences, Political Science, Tourism or other related fields.
Candidates with a Bachelor's degree of a recognised University of Applied Sciences may be admitted with 30-60 additional ECTS to be earned during or before the beginning of the programme, with Bachelor or Master courses according to a study program defined by the scientific director. Admissions will be treated on a case by case basis
The Master in International Tourism is entirely taught in English. . Applicants whose first degree was not taught in English, are required to at least have earned a B2 certificate according to the Common European Framework of Reference for Languages or an equivalent level of another proficiency certificate – e.g. TOEFL, IELTS.
Whilst it is an important requisite to be fluent in English, candidates do not need to know or learn Italian in order to successfully participate in the programmes.
As Lugano is located in the Italian-speaking part of Switzerland, students might be interested in acquiring the basics in Italian, in order to be able to get around in everyday life.
The University of Lugano offers an Italian language study programme organized in various modules. All its non Italian-speaking students, researchers and professors are invited to participate free of charge.
Sbocchi occupazionali
The Master programme trains professional figures with qualified management career prospects in the foremost sectors of tourism, as for instance:
Government, Industry Associations and Research;
Destination Marketing;
Travel Trade (Tour Operators and Travel Agencies);
Transportation and Accommodation;
Events and Conferences.
Contenuti
Sem. I (27 ECTS)
Cultural History of Tourism
Economics and Politics of International Tourism
E-tourism Technology Labs
International Relations and Tourism
New Media for Tourism Communication
Rhetoric and Persuasion in Tourism Communication
Tourism Economics
Event Management
Sem. II (24 ECTS)
Destination Management and Marketing
Economics of Transport and Mobility
Business Travel
Heritage Interpretation (Lab)
Innovation and Cooperation in Tourism
Management of Small and Medium Enterprises
Tourism Planning and Development
Tourism Service Management
Sem. III (33 ECTS)
Architecture and Tourism
Environmental and Natural Resources Policy
International Relations and Tourism – Case Study
International Tourism Marketing 4.5
Personalization courses from other master courses
Sem. IV (36 ECTS)
Strategic Management of Tourism Destinations and Organizations
Research Methods in Tourism
Study tour
Internship**
Thesis.
Note
Durata The academic year runs from September until June. Courses are held from September until December and from February until the end of May. The academic year also includes 3 exam sessions (January, June and September). Stage Part of the International Tourism Master is an internship that should last for a minimum of 8 weeks. It can be done between the 2nd and 3rd semester or after the 4th semester. It is in the students' responsibility to organize an internship. However, the Career Service of the university provides students and graduates with appropriate support and guidance Costo Tuition fees for the Master's degrees amount to CHF 4,000 per semester. Applicants whose official residence was in Switzerland (including Liechtenstein and Campione d'Italia) at the time of the final high school exam (Maturità) pay a reduced semester fee of CHF 2,000. Tuition fees are payable at the beginning of each term, by the deadline indicated on the invoice; fee payment is an essential condition for matriculating or renewing one's enrolment. Borse di studio e finanziamenti The Foundation for the Lugano Faculties of USI will award a total of 60 one-off study grants of the amount of 4'000 CHF each. The merit based grants are given to first year students admitted to a USI Master program starting in September. Other study grants are available. For more details, please, visit the following link: http://www.usi.ch/en/formazione-borse_studio.htm