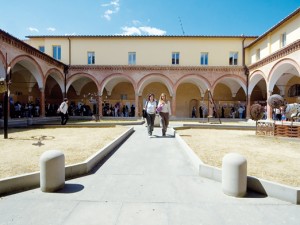 E-LEARNING INTERNATIONAL MASTER IN COSMETIC SCIENCE AND TECHNOLOGY
Università degli Studi di Siena
Città Siena
Costo 5500 €
Durata 16 Mesi
Stage NO
L'E-learning International Master in Cosmetic Science and Technology è un master di II livello organizzato dalla Facoltà di Farmacia – Dipartimento Farmaco Chimico Tecnologico – Centro Interdipartimentale di Scienza e Tecnologia Cosmetiche dell'Università degli Studi di Siena-
Obiettivi
L'E-learning International Master in Cosmetic Science and Technology si svolge mediante formazione e-learning e attività pratica di laboratorio in Italia. Il Master si prefigge l'obiettivo di formare esperti nel settore cosmetico, fornire conoscenze teoriche e pratiche per la preparazione di specialisti altamente qualificati in Scienza e Tecnologia dei Prodotti Cosmetici. Il Master consente di acquisire conoscenze relative al settore cosmetico che permettono di svolgere attività in ambito sanitario e aziendale. L'acquisizione di tali professionalità consente di operare in laboratori di Ricerca di Base, Ricerca e Sviluppo, Produzione, Controllo analitico e Microbiologico, in strutture addette alla certificazione, nel settore marketing e comunicazione e dell'informazione tecnico-scientifica. La preparazione acquisita in corsi teorici e nelle esercitazioni pratiche è altamente qualificata e permette di svolgere attività di responsabile della produzione, dell'importazione e Valutatore della sicurezza.
Destinatari
A degree in Pharmacy, Pharmaceutical Chemistry and Technology, Chemistry, Industrial Chemistry, Biological Science and Chemical Engineering.
Admission to the Master course is granted on the basis of the Curriculum vitae and any other qualification related to the subject of this Master.
Equivalent degree obtained from foreign Universities.
On the basis of the available structures and facilities a minimum of 8 and a maximum of 30 students are admitted to the Master course.
Contenuti
Skin and Skin Appendages Anatomy, Histology,Histochemistry
Skin and Skin Appendages Physiology and Physiopathology
Skin and Skin Appendages Biochemistry
Chemical-Physical Principles of Cosmetology
Cosmetic Chemistry
Chemistry of Natural Compounds
Cosmetic Technology and Formulation
Cosmetic Products Analysis and Quality Control
Applied Microbiology
Cosmetics Regulatory Foundations
Cosmetic Products marketing and Communication
Cosmetic Manufacture Equipment and Hygiene in Cosmetic Production
Microbiological Quality Control
Cosmetic Toxicology. Dossier
Cosmetic Dermatology
Certifications and Quality Systems
Elements of Statistics
Psychology and sensory analysis
Natural and biological cosmetic products
Perfumes
Note
Durata 16 mesi, a partire da giugno.